How to Mitigate the Risks of Signing a Director Personal Guarantee:
1

Shop around for several lenders and ask for their DPG terms early on to compare them
2

Ask your broker to look at the "friendlier" lenders, not just interest rates and (their commission rate)
3

Open a channel of communication with the lender early on to enable you to clarify terms in the DPG that your solicitor may point out as vague or risky to you
Look at insuring against the risk in the DPG. Types of insurance to look at are : business loan insurance, landlord's insurance, key personnel insurance, director personal guarantee insurance.
Speak directly to Purbeck and consider a blanket policy covering your future transactions
Sign up to websites like https://www.buy2letclub.co.uk/ to get Director friendly mortgage lender insider tips
Personal Guarantee Insurance provides cover to Directors of Ltd Companies based in England and Wales who have signed a Personal Guarantee in relation to commercial finance such as a mortgage to buy a property.
During our independent legal advice meeting our solicitor may refer you to review this type of insurance because if the director's company enters into insolvency, the personal guarantee insurance steps in and pays a set percentage of the Director's commitment directly to the lender.
Personal Guarantee Insurance by Purbeck Insurance Services
We have partnered with a Purbeck Insurance Services, currently the UK's only current provider of Personal Guarantee Insurance (PGI), to provide you with a solution that gives you the confidence to grow your business through securing crucial finance, whilst protecting your personal assets.
*80% cover for PGs signed in support of secured finance
60% cover in the first year for PGs attached to unsecured finance, rising to 70% in year two, then 80% in year three and thereafter
A maximum level of cover of £400,000 for secured loans and £300,000 for unsecured loans
Unlimited access to the Business Support Service which provides invaluable support during financial difficulties
£10,000 cover for a professional debt negotiator to arrange settlement with the lender
Cover for multiple Directors on one Policy at no extra cost if the PG is signed on a joint and several liability basis
Cover for multiple guarantees on one Policy
Personal Guarantee Insurance is available against a wide range of business loans, including invoice finance, asset-based loans, commercial mortgages, peer-to-peer loans, development loans and more.
Free No Obligation Personal Guarantee Insurance Quote
Frequently Asked Questions
Personal Guarantee Insurance (PGI) is provided by Purbeck Insurance Services, whose Policies are backed by Markel International Insurance Company Ltd. The Markel Corporation has been around for over 90 years, and is an A rated insurer as rated by A.M. Best (A), Fitch (A+) and S&P (A). This is known as Markel Personal Guarantee Insurance.
Purbeck Insurance Services is a trading name of Purbeck UK Limited which is a company registered in England and Wales under company number 10345620 and has its registered office at 20 - 22 Wenlock Road, London, N1 7GU. Purbeck UK Limited is authorised and regulated by the Financial Conduct Authority. Firm permissions can be obtained from the FCA register. Purbeck UK Limited is a Managing General Agent and has binding authority to enter into and administer contracts of insurance on behalf of Markel International Insurance Company Limited.
Parachute Law Solicitors is paid a referral fee by Purbeck of 10% of the first year's premium.
Purbeck offer a maximum level of cover of £400,000 for secured loans and £300,000 for unsecured loans.
Completing an application form online takes a matter of minutes and you will typically be contacted within 24 hours to discuss your requirements and see if the Policy is for you.
Typically, the directors guarantee insurance premium is paid for by the business and not you personally, since the loan that the Personal Guarantee is attached to is for business purposes. The Director can then add the premium to the P11D form as a neutral business expense, allowing them some tax relief. If your company is going to pay for you to be protected then why not.
Personal Guarantee Insurance Cost
Get a free no obligation quote today to see how little it costs to protect director's personal assets.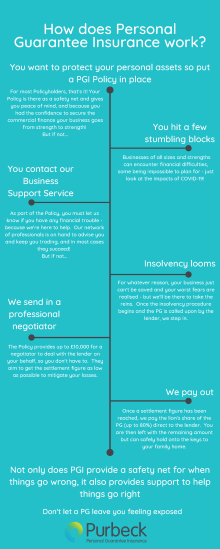 The following is the Trustpilot rating for Parachute Law.