Occupation Order Under The Family Law Act

What is an occupation order under the family law act?
Occupation orders are used, in extreme cases, to enforce, declare or restrict rights over who has access to the family home.
The Family Law Act
focuses on the rights of children and the responsibilities that each parent has towards their children. It will apply to your occupation order if any children are effected by the occupation dispute. This article applies to cases that do and don't involve children.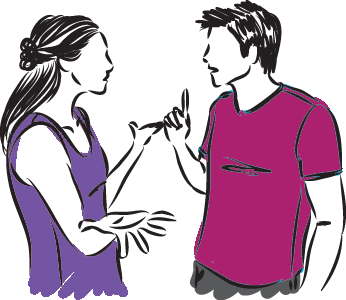 Are you facing a property dispute?
Book a free 10 minute chat with a trained member of our property dispute team to see how we can help you with:
Working out your beneficial interest
Negotiating in & out of court
Proposing & reviewing settlement agreement
Applications to court including Declaratory Orders, Regulatory Orders, Occupational Rent
For example
To enforce a persons right to remain in occupation of the property
To require permission for a person to enter and remain in the property
To prohibit, suspend or restrict someone's occupation in the property
To force someone to move out of the property
To exclude someone from a specified area around the property
The type of order will be carefully considered based on the circumstances of the application.
Declaratory Orders
Declaratory occupation orders declare, extend or grant occupation rights, and can be made by either partner, often when one partner is trying to make them leave.
For example:
To declare that the applicant is entitled to occupy or has matrimonial home rights
To enforce the applicant's right of occupation
To allow re-entry to the home if excluded
To make an order during the marriage or civil partnership that matrimonial rights will extend beyond divorce or dissolution of the civil partnership.
Regulatory Orders
Regulatory occupation orders can be made by either partner, to control or restrict the existing rights of the other, only when it is necessary to stop the other partner from entering the home.
For example:
To regulate the occupation of the dwelling by either party (or both)
To exclude one partner from all or part of the home
To restrict or terminate the matrimonial rights of a spouse or civil partner who does not own the home (or is not a named tenant). (The sole owner's rights cannot be completely terminated unless ownership is transferred by the court at a later date).
TW: Domestic Abuse
In instances of domestic abuse you can apply for a non-molestation order. This is a separate order which prevents the perpetrator from pestering, harassing or molesting, but does not effect occupation. Both orders can be made simultaneously.
How do you win an Occupation Order?
An occupation order can be granted for either of sections in the Family Law Act:
Section 33(7):
'If it appears to the court that the applicant or any relevant child is likely to suffer significant harm attributable to conduct of the respondent if an order under this section containing one or more of the provisions mentioned in subsection (3) is not made, the court shall make the order unless it appears to the court that –
the respondent or any relevant child is likely to suffer significant harm if the order is made; and the harm likely to be suffered by the respondent or the child in that event is as great as, or greater than, the harm attributable to conduct of the respondent which is likely to be suffered by the applicant or child if the order is not made.'
Section 33(6):
'In deciding whether to exercise its powers under subsection (3) and (if so) in what manner, the court shall have regard to all the circumstances including –
the housing needs and housing resources of each of the parties and of any relevant child;
the financial resources of each of the parties;
the likely effect of any order, or of any decision by the court not to exercise its powers under subsection (3) on the health, safety or well-being of the parties and of any relevant child; and
the conduct of the parties in relation to each other and otherwise.'
What evidence do you need to get an Occupation Order?
To apply for an application order, one green check point from each of the following three criteria must apply.
1

You must have a legal or contractual benefit in the property or a right to occupy.
For example:
Legal owner (sole or joint)
Beneficial owner (sole or joint)
Matrimonial home rights (you live there and you are married to or in a civil partnership with the owner)
There is significant risk to you or to your child, from the respondent, if the order is not granted
If none of the above apply the court may consider the housing and financial needs and resources of all parties, including affected children, their conduct towards each other, and the potential detriment to their health, safety or wellbeing if an occupation order is granted, vs not granted.
2

The property is or has been at some time the home of both parties and was intended to be your home.
You both do, have, or planned to make this property your shared home.
3

The parties must be 'associated' as set out within s62-s63 of the Family Law Act 1996.
You are, were, or intend to be married to, or civil partners with, the respondent
You and the respondent live together as if you are married or civil partners
You and the respondent live or have lived in the same home in a familial relationship
You and the respondent have or have had an intimate personal relationship of significant duration with each other
You and the respondent are relatives (parent or step-parent & child, grandparent & grandchild, spouse/civil partner or former spouse/civil partner, sibling, uncle/aunt and niece/nephew, first cousin.
Make an application for an Occupation order: Family Law Act
To apply,
Form FL401
entitled "Application for: a non molestation order/an application for an occupation order" must be completed and lodged at the Court. There is currently no fee payable to the Court to issue an application.
Frequently Asked Questions
In an emergency, where parties are at risk of significant harm, the application can be made in a single day, with the court hearing your case within 24 hours of receiving the application. In most cases if there is no immediate risk of danger, there will be a short wait.
Normally you will have to follow the order for 6 months, but sometimes the order is for a different duration.
It is possible to challenge the order if you believe it is baseless and not corroborated by any evidence.
An occupation order is ordered by the court. This makes is legally enforceable
If you breach the order you may be found in contempt of court which could be punishable by imprisonment.
Yes, in an emergency an occupation order can be made without notice. If this is the case, you will have to return to court for the hearing.
Are you applying for, or contesting, an occupation order?
The process for settling a property dispute can be long and costly. If you are fighting over who gets to live in your home, get in contact with us and see how we can help.
We can assist with:
Working out your beneficial interest
Pre-action negotiations
Application to court
Preliminary hearing
Mediation
Court appearance
We have on hand counsel to support your claim and offer guidance along the way.
Qualified Solicitors | Competitive Quotes | Straight Talking Legal Support
Find Out More:
Talk to a Professional
If you need to apply for or contest an occupation order, we can help.